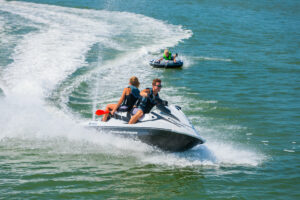 Welcome to Action Toy Rentals, Northern Utah's premier and most trusted jet ski and waverunner rental shop. With multiple decades of experience and a strong commitment to customer satisfaction, we have established ourselves as the go-to destination for thrilling water adventures. At Action Toy Rentals, we pride ourselves on providing our customers with top-of-the-line jet skis and waverunners from trusted and renowned brands, ensuring an unforgettable experience on the water.
Decades of High Customer Satisfaction
For many years, we have been dedicated to delivering exceptional service and thrilling experiences to our valued customers. Our commitment to excellence has earned us a reputation for being a leader in the industry. With countless satisfied customers returning year after year, we are proud to have built long-lasting relationships based on trust and reliability.
Reliable High-Performance Top-Brand Jet Skis
When it comes to renting jet skis and waverunners, we understand the importance of reliability and performance. That's why we go above and beyond to offer only the best watercraft on the market. At Action Toy Rentals, you can expect to find a wide selection of top-brand jet skis meticulously maintained to ensure optimal performance. We invest in the latest models with cutting-edge features, providing our customers with the most thrilling and enjoyable rides.
Unforgettable Water Adventures
Whether you're a thrill-seeker craving an adrenaline rush or a water enthusiast looking to explore the picturesque lakes of Northern Utah, Action Toy Rentals is here to make your experience unforgettable. Our team is passionate about watersports and is dedicated to helping you make the most out of your time on the water. We provide detailed safety instructions and tips to ensure that you have a safe and enjoyable adventure.
Exceptional Customer Service
At Action Toy Rentals, we prioritize our customers and their satisfaction above all else. Our friendly and knowledgeable staff is always ready to assist you in selecting the perfect jet ski or waverunner for your needs. We take the time to understand your preferences and provide expert recommendations, ensuring that you have the best equipment for an incredible experience. We are committed to going the extra mile to exceed your expectations and make your visit with us a memorable one.
Convenience and Flexibility
We understand that planning a water adventure can be challenging, which is why we strive to make the rental process as convenient and flexible as possible. Our rental packages are designed to accommodate various needs, from hourly rentals for quick bursts of fun to full-day or multi-day rentals for extended excursions. We offer competitive pricing and flexible scheduling options, so you can embark on your adventure at your own pace and within your budget.
Book Your Adventure Today
If you're ready to experience the thrill of riding a high-performance jet ski or WaveRunner on the pristine waters of Northern Utah, look no further than Action Toy Rentals. Our commitment to customer satisfaction, extensive experience, and top-quality watercraft make us the premier choice for water adventures in the region. Contact us today to book your unforgettable jet ski or waverunner rental and create memories that will last a lifetime.
Get ready for action and let the adventure begin with Action Toy Rentals!
FROM THE WATER
Enjoy a day out on any of Utah's many lakes and reservoirs.
Rent your Personal Water Craft or Pontoon boat here in Murray, Utah today from Action Toy Rental!